Dear Parents and Students
It is with great pleasure that I welcome you to our school website.
As Principal I witness on a day to day basis the continued commitment of the school and the staff to the provision of an excellent all-round education for our students. We are a team that come together in the shared partnership of educating our wonderful students.
Most importantly our students are enjoying a fabulous year with many achievements. These achievements have been in their academic studies, sport, music, quizzes, and the arts to name just a few and we are justly proud of them.
I would also like to thank the many parents who have worked closely with all the staff. To have a good understanding of our parent body is very important to enable the school to meet the needs and aspirations of our families and students.
We have recently been granted funding for an extension to our school and we are enthusiastic to enhance and promote all aspects of St Eunan's NS.
Mrs Anita Keeve
School Principal
Mission Statement
St Eunan's National School is a Co-Educational, catholic Primary School which strives to provide a well ordered, caring, happy and secure atmosphere where the intellectual, spiritual, physical, moral and cultural needs of pupils are identified and addressed.

While St Eunan's is a school with a catholic Ethos, it also has due recognition for all other religions.

St Eunan's will strive to promote, individually and collectively, the professional and personal development of teachers through staff development programmes.

St Eunan's will encourage the involvement of parents through Home/ School contacts, and through their involvement in the Parents Association.

St Eunan's will endeavour to enhance the self-esteem of everyone in the school community, to imbue in the pupils respect for people and property and to encourage in them the idea of being responsible.

St Eunan's will promote gender equity amongst the teachers and pupils.

Deanfaimid iarracht Gaeilge a labhairt.

Address: Meetinghouse St, Raphoe, Co. Donegal
Phone: (074) 914 5764
School Email:  steunansns.raphoe@gmail.com
Principals Email: steunansprincipal@gmail.com
The School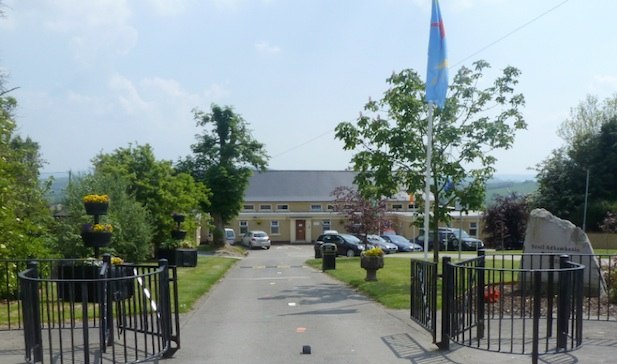 Board Of Management 2019 - 2023
Fr Eamonn Kelly

(Chairperson)

Mrs Anita Keeve (Principal)
Mrs Finola McGahern (Staff Representative)
Mrs Eve Ann Mc Carron

(Parent Representative)
Damian McCarron (Parent Representative)
Mr Martin Laird (Patron Nominee)
Mr Paul Brolly (Community Representative)
Mrs Catherine McGlinchey

(Community Representative)